Rajasthan tour India
Bus Hire in Jaipur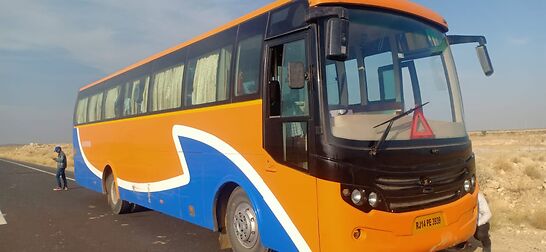 A Jaipur bus Rental & Coach hire service provider in Jaipur, Rajasthan
Are you looking to hire a bus in Jaipur for a local Jaipur or outstation tour from Jaipur?
Then have a look at the below bus fleet from Rajasthan tour India which consist of buses like:
AC Volvo Bus
AC Deluxe Bus
AC Mini Bus (18 seater,19,21,23,25,27,29,32,35,41,45,49,52,56 seater)
All above with Non-AC option
Below we have shared complete details on how you can choose the correct bus for your trip, as per the total people. And at any time, you can contact me (sachin gupta) at +91 9251637375 /9001665544 for bus booking, or fill the contact form below.
Are you travelling in a big group for any specific trip? Not to worry, Rajasthan tour india provides a wide variety of AC and Non AC buses to facilitate your trip with comfort and luxury. You can book our bus services in Jaipur as per your requirements and necessities and get the best deals for a cozy and affordable tour.
We are known for providing various luxury bus rental in Jaipur for local and outstation tours. So if you are looking for a reliable bus hire in Jaipur then don't think too much and book suitable bus services with us for a safe and memorable journey at budget friendly prices. We cater our client with full freedom to investigate about the vehicles and drivers with our experienced staff.
We offer a wide fleet of Non AC and AC Volvo bus hire in Jaipur for various purposes like college trips, corporate conferences, group parties, holiday family trips, marriages etc. You can choose any kind of luxury Volvo AC/Non AC bus to satisfy all your travel requirements. Our different luxury bus fleet includes:
Both AC and NON AC variants are available in different bus types
You can choose any kind of luxury Volvo AC/Non AC bus to satisfy all your travel requirements. Additionally, our online bus booking services are not location specific so you can make the suitable bookings at your convenience.
Bus Hire For Outstation In Jaipur
Bus Hire for Outstation in Jaipur We provide bus rental services in Jaipur for outstation tours. Our bus rent charge payment depends on two factors either you can pay according to covered kilo metres or as per day charge (8 hours basis). We have a large fleet of buses with multiple seating capacities so you can choose according to the number of members travelling. For example if you are 45 persons travelling then go for our 45 Seater bus rental in Jaipur.
Bus Hire For Local Sightseeing
Bus Hire for Several Purposes
Bus Hire for Jaipur Sightseeing If you are planning to visit Jaipur with your family to enjoy its beauty and rich heritage and looking for luxury bus hire in Jaipur, we provide you with the best possible options to make your visit awesome and comfy. You can choose any bus according to your necessities and our skilled driver will make you visit every gem of the city and have a memorable travelling experience.
Bus Hire For Wedding In Jaipur
Bus Hire for Wedding in JaipurIn weddings or grand family functions, a large number of guests are invited and so for their transportation to the venue or hotel, booking suitable bus is the most efficient and affordable option and safe too. At a time, 50 people can be transferred in different wedding functions with our 52 Seater bus hire in Jaipur
Bus Hire For Corporate Meetings / Trips
Bus Hire for Corporate TripsIf you are going for a corporate meeting then all the attendees are required to reach the destination on time. Booking our bus services will make you arrive at the meeting spot on time and safely with our expert drivers. If you are few members to attend a meeting then you can look for our mini bus hire in Jaipur.
Bus Hire For School Or College Trips
Bus Hire for School or College Trips Many institutions plan educational trips or picnic for the children. They require a comfortable bus rental service to transport the children safely to the destination. Hire our varied range of buses on rent according to your needs and seating capacity. If there are around 30-35 students in a class, then we are also offering 35 Seater bus hire in Jaipur to make convenient bus travel class-wise to avoid confusion. Your choice is our priority.
Benefits of Luxury Bus Hire in Jaipur with Rajasthan tour
Our extensive range of luxury buses collaborated with top class rental services have satisfied our customers to the fullest. Buses are featured with magnificent interiors with eye catching exteriors, comfortable seating arrangement and advanced safety features that are essential to make a trip cozy and pleasurable without any hassles. Several optimistic reasons along with top bus rental services in Jaipur appeal our customers to choose us:
Good quality services with customer satisfaction
Delivering magnificent services at pocket friendly bus rental rates
Complete transparency in terms and conditions and no hidden charges are involved
Experienced staff to take care of all your travel needs